JUUL E-Cigarette Injury Attorneys in Boston, MA
Juuling, an electronic cigarette form of vaping, is an activity that is immensely common within young adults in high school and even as far down as middle school. Unfortunately, this has allowed companies such as JUUL to get a large and impressionable client base that is easily manipulated once hooked.
JUUL products and other electronic cigarettes like them contain a small cartridge of liquid containing popular flavors such as mint and bubblegum and furthermore also contain a large amount of nicotine that is often overlooked. In some cases, a single JUUL cartridge can contain the same amount of nicotine as an entire pack of cigarettes. However, even more dangerously, JUUL cartridges have a significantly higher concentration of nicotine and the body subsequently absorbs that nicotine at a much higher rate.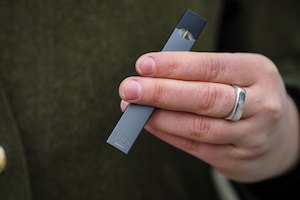 JUUL has done a comprehensive yet deceptive marketing campaign revolving around normalizing nicotine usage, downplaying the risks of nicotine usage, and making sure to get a JUUL cartridge in the hands of any youth possible. By downplaying the nicotine usage, JUUL has been accused unanimously by governments and citizens alike of targeting these underage users in order to create a new generation of users addicted to nicotine. In order to normalize this, JUUL's marketing campaign showcased celebrities and youth alike enjoying the product and relied heavily on social media knowing that the younger generation typically responds better to that narrative.
In December of 2018, a Surgeon General's Advisory on e-cigarette usage among youth was released emphasizing the importance of protecting our children from a lifetime of nicotine addiction associated with the e-cigarette usage among the youth and that action must be taken now, as there is great cause for concern as:
Over the last decade, e-cigarette usage in youth in high school has gone up nearly 20%
Teens are more likely to use e-cigarettes than cigarettes
Teen e-cigarette users are more likely to begin and continue smoking
A majority of teens believe that their e-cigarette does not contain nicotine and is just flavoring as a result of JUULs marketing campaign
Popular flavors are used to lure in youth
Long-term effects could include:
Nicotine addiction
Nicotine poisoning
Seizures
Strokes
Hypertension
Vascular damage
Cardiovascular diseases
Lung diseases
Cancer
So far, we know that there is substantial evidence that e-cigarette use increases the risk of that user smoking addition tobacco products and that the usage can result in symptoms that create a strong dependence and addiction on and to e-cigarettes. Additionally, there is strong evidence to support the notion that the chemicals found in the JUUL cartridges are related to carcinogens increasing the risk of cancer and adverse reproductive outcomes. Although e-cigarettes may be less hazardous than traditional cigarettes, messaging to teenagers should include warnings about the potential risk of nicotine addiction and exposure that could result in the severe injuries listed above.
It is imperative that you seek immediate medical attention if you have been injured by this product. The injuries sustained must be treated properly and may require continued and long-lasting care. The medical treatment serves to both get you back in good health as well as serving as proper evidence of your injuries to assist you in your claim for compensation. Types of damages can include:
Past and future medical expenses for addiction treatment
Physical and mental expenses that may result from an injury you incur as a result dependence or usage of JUUL products
Past and future loss of employment
Loss of function or enjoyment or life
Punitive damages
Additional damages as needed
Although each case presents a different scenario with varying facts, you should speak with an attorney at the Jeffrey Glassman Injury Lawyers who specializes in product liability, like the JUUL product, to see if we can help and assist you with your claim. Our attorneys are deeply passionate about consumer protection and making sure that you get the proper representation that you deserve. Product liability cases presents a unique fact pattern which often leads to severe injuries and in some cases can even turn fatal. You may be entitled to significant amounts of compensation in an effort to help put back together what you have lost.
Please contact Jeffrey Glassman Injury Lawyers for a free and confidential consultation to discuss your rights. (617) 777-7777. Our office handles cases on a contingency basis so you will not be charged legal fees unless there is a monetary recovery.