Bad Faith Insurance Claims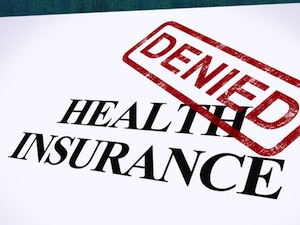 An insurance policy is a contract between a paying customer and the insurance company. It's a promise to its insured customer, as well as to anyone that individual may harm through an act of negligence.
The specifics of these policies can vary, but all insurers have a legal obligation to abide by the implied covenant of good faith and fair dealing. Generally speaking, bad faith is intentional dishonesty by way of failure to fulfill the contractual or legal obligations, by misleading or violating the basic standards of honesty in dealing with others.
Massachusetts Insurance
Bad Faith 93a/176d
Penalties include:
Loss of business license
Monetary damages
Injunctive relief
Attorney fees
Causes of Action:
Unfair discrimination
Untimely payments
Denial of claims without fair investigation
Failure to properly handle complaints
Unfair business practices
Source: Massachusetts Law
At Jeffrey Glassman Injury Lawyers, our Boston auto accident attorneys are familiar with what constitutes bad faith by the insurance companies, and how those actions may be remedied to your benefit.
Insurance companies and adjustors who are acting in good faith will try to find ways to accept and pay claims both properly and promptly. Those who are acting in bad faith will actively seek ways to diminish or disprove claims, delay payment or deny a claim entirely – even when liability is clear.
That said, most insurance companies are looking out for their own profit margins, and there can be a fine line between intense negotiation and bad faith. Your personal injury lawyer can help you understand the difference, and whether the actions of the insurer have crossed that line.
Potential causes of action for bad faith under M.G.L. 93A and M.G.L. 176D may include:
Untimely payments
Denial of claims absent fair investigation
Failure to handle complaints properly
Unfair business practices
Unfair discrimination
Insurance companies that do not deal fairly with victims and even their own insureds may face significant liability, and could ultimately be found responsible for the entire amount of damages, which could be far beyond the policy limits. Penalties for bad faith may include:
Monetary damages (including in some cases treble damages)
Loss of business license
Injunctive relief
Attorney fees
These actions may be filed in a first-party context (against your own insurance company) or in a third-party context (against the tortfeasor's insurance company).
It is generally inadvisable to initiate a bad faith claim on your own. There are complex laws and procedures involved. Understand also that per state law, the statute of limitations to bring action against an insurer for unfair or deceptive business practices is four years. That may sound like a lot of time, but these cases usually involve extensive research, and that timeline could be tighter than you realize.
Grounds for Bad Faith Action After Car Accident
Massachusetts has two statutes that protect consumers – including those involved in car accidents – from bad faith actions by insurance companies.
The first is M.G.L. 93A, which focuses on regulation of business practices for consumer protection, and the other is M.G.L. 176D, which spells out unfair methods of competition and unfair and deceptive acts and practices in the business of insurance.
In general, these statutes protect against failure to make payment on claims, failure to engage in good faith settlement procedures that expose insureds to excess judgments and bad faith actions regardless of excess liability. Most commonly in crash cases, victims are dealing with unfair claim settlement practices, as spelled out in M.G.L. 176D § 3(9). These include:
Misrepresenting key facts or insurance policy provisions pertaining to available coverage
Failure to acknowledge or timely respond to communication regarding auto insurance claims
Failure to have or adhere to reasonable standards for timely investigation of insurance claims
Refusing to pay claims without completing a reasonable investigation of available facts
Delaying affirmation or denial of coverage within a reasonable amount of time after submission of proof of loss statements
Failing to extend timely, fair and equitable settlement of claims in cases where liability is reasonably clear
Forcing insureds to file a lawsuit to recover damages by trying to settle a claim for far less than it is worth
Informing insureds or claimants of internal policies of appealing all arbitration awards in an effort to get them to simply accept that amount
Delaying an investigation or payment of claim
Failing to give a timely, reasonable explanation for denial of a claim or offer of compromise settlement
It's worth noting that when insureds or claimants do not deal properly with an insurance company, it can significantly hinder the chance to collect damages for bad faith. An experienced personal injury attorney can make sure your responses are appropriate and timely, and that if bad faith action is warranted, you will not miss the opportunity for compensation.
Contact Jeffrey Glassman Injury Lawyers today for a free and confidential consultation.
Call (617) 777-7777 – NO FEE UNLESS SUCCESSFUL