Boston Motorcycle Accident Attorney
At Jeffrey Glassman Injury Lawyers, many of our motorcycle accident attorneys are avid riders as well. We firmly believe in the rights of motorcyclists, and we understand the difficulty victims and surviving loved ones can have in securing adequate compensation from insurers.
An estimated 4 million motorcycles are registered in the U.S., and every year, thousands of motorcyclists are killed and many more seriously injured in traffic accidents.
In Massachusetts alone, there were nearly 200 motorcyclists who died on our roads between 2010 and 2013, according to reports from the National Highway Traffic Safety Administration. Fatalities decreased by 25% from 56 in 2015 to 42 in 2016. Of those, more than 80 percent were wearing helmets, as required by state law for all riders. Motorcycle riders are 28 times more likely to die in an accident than passengers in automobiles.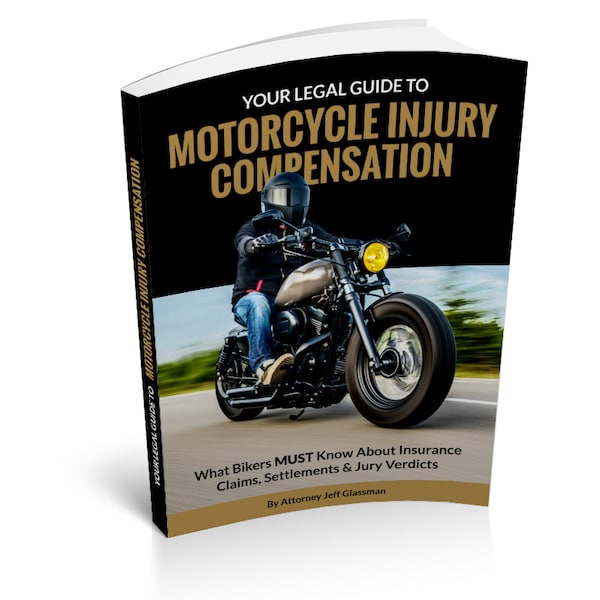 Your Legal Guide to Motorcycle Injury Compensation
Motorcycle accidents are most often the result of the other driver's negligence. Some of the most commonly-cited causes include:
Cutting off a motorcyclist at an intersection
Failure to yield
Following too closely
Swerving in front of a motorcyclist
Speeding
Distraction
Driving under the influence
Too many drivers are not paying proper attention and watching out for motorcyclists, who have as much right to the road as those in four-wheeled vehicles.
What Types of Compensation Can I Receive in a Massachusetts Motorcycle Accident Lawsuit?
If you have been involved in a motorcycle accident in Massachusetts and you believe that someone else was at fault, you may be able to seek compensation through a personal injury lawsuit. The types of compensation that you may be able to receive in a Massachusetts motorcycle accident lawsuit will depend on the specific circumstances of your case and the damages that you have suffered.
It's important to note that every motorcycle accident case is unique, and the specific types of damages that you may be able to recover will depend on the circumstances of your case. If you have been involved in a motorcycle accident in Massachusetts and are considering pursuing a personal injury lawsuit, it's important to consult with an experienced personal injury attorney to discuss your legal options.
How Long Do I Have to File a Massachusetts Motorcycle Accident Lawsuit?
In Massachusetts, you generally have three years from the date of a motorcycle accident to file a personal injury lawsuit, and this is known as the statute of limitations.
If you do not file your lawsuit within this time period, you may be barred from recovering damages for your injuries, even if someone else was at fault for the motorcycle accident. Therefore, speaking with a personal injury attorney with motorcycle accident experience is important to ensure that your rights are protected and to avoid missing any important deadlines.
It is worth noting that some exceptions to the statute of limitations could affect the deadline for filing a motorcycle accident lawsuit. For example, if the person at fault for the accident is a government employee, the deadline for filing a lawsuit may be shorter. It is always a good idea to speak with an attorney to understand your rights and options in your specific case.
What are the Most Common Motorcycle Injuries in Massachusetts?
The most common motorcycle injuries in Massachusetts are likely to be head injuries, fractures, and road rash (abrasions caused by sliding on pavement). According to data from the Massachusetts Department of Public Health, head injuries account for the majority of motorcycle-related deaths and hospitalizations in the state. Wearing a properly fitting helmet can greatly reduce the risk of head injuries while riding a motorcycle. Other common injuries include fractures to the limbs, hands, and feet and injuries to internal organs from blunt force trauma.
PIP Coverage and Motorcycle Accidents
Far too often, insurance companies complicate the process of collecting damages in a motorcycle accident.
Massachusetts law requires personal injury protection (PIP) insurance protection on all auto insurance policies. This covers some of the cost of medical bills, lost wages and funeral expenses up to a certain amount for insureds, regardless of fault.
However, insurers do NOT have to provide PIP coverage in policies covering motorcycles in this state. That means the rider or passenger of a motorcycle most likely will not collect be able to collect PIP coverage in the event of a crash.
That's why it is so important for motorcyclists to carry adequate health care insurance, and should also look into other forms of coverage. A motorcyclist who is at-fault for an accident may be personally liable to cover the costs of a passenger's injury.
But when the motorcyclist is not at-fault, as is very often the case in Boston motorcycle accidents, the injured person may seek to recover damages from the at-fault driver and his or her insurance company.
In order to prevail in these cases, it's necessary to show negligence on the part of the other driver. This means one has to show the other motorist failed to use reasonable care as expected, this breach of duty caused the crash and the crash resulted in the motorcyclist's injuries or death.
By contacting an experienced motorcycle accident lawyer in Boston, you will have leverage in negotiations with insurance companies. Often, insurers will attempt to contact victims immediately following a crash, in an attempt to strong-arm a low-ball settlement deal. It wise to refrain from any discussions with any insurance companies until speaking with an attorney.
If negotiations with the insurance company are unsuccessful, at that point, we can explore litigation.
Damages in Motorcycle Accident Lawsuits
Injuries that result from motorcycle accidents are often severe. This is owed to physics. A person on a motorcycle simply has less protection than someone in a motor vehicle, even if the operator or rider is wearing a helmet.
Additionally, the impact of a two-ton mass of metal on a lightweight bike tends to result in the rider being ejected. This is when the most serious injuries occur.
Among those injuries most often seen in motorcycle crashes are:
Those who survive often require extensive medical care, including surgery, medication and rehabilitation. In some cases, an injury may be disabling and permanent.
In addition to a rider's hospital records, your attorney will want to initiate a full medical evaluation by medical experts who will be prepared to testify regarding the short-term injuries and long-term prognosis.
Once our team has a better sense of these facts, we will seek to pursue compensation.
These damages may include:
Costs for medical bills (past and future)
Lost wages
Loss of earning capacity
Pain and suffering
Loss of consortium
Actual recovery will depend on the individual facts of the case, and whether the motorcycle rider shared any percentage of the blame for the crash (called comparative fault ). This will not bar recovery, but it might limit the total amount you can recover.
If you have been injured in a motorcycle accident, call our team of lawyers in Boston to discuss the facts of your case and how best to proceed.
Contact Jeffrey Glassman Injury Lawyers today for a free and confidential consultation.
Call (617) 777-7777 – NO FEE UNLESS SUCCESSFUL