Medical Malpractice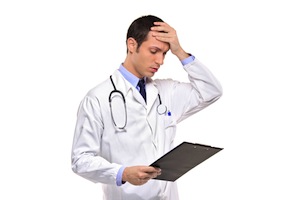 We trust our doctors, nurses and other health care providers to heal us and make us well. Most are dedicated to this goal, and work hard to accomplish it each day.
However, they are also grappling with reduced staffing, grueling schedules and increasing demands from employers. This does not bode well for patient safety. Neither does the fact that some providers are simply careless or even reckless in their work.
At Jeffrey Glassman Injury Lawyers, our Boston medical malpractice attorneys recognize how traumatizing it is to suffer as a result of a medical professional's negligence. We also know these cases are incredibly complex, differing vastly from general personal injury cases in terms of the proof burden.
These cases are strictly vetted by a tribunal long before they ever make it to the trial phase, and most defendants will pour copious resources into aggressively fighting these claims – to deny plaintiffs their rightful compensation, but also to avoid a public stain on their record.
Injured patients and surviving family members of those lost to medical malpractice in Massachusetts must hire an attorney with the ample experience and resources to fight back. Because there is so much to overcome early on in these cases, there is no room for error.
What is Medical Malpractice?
Let's start by saying what medical malpractice is not. It is not merely having a poor health outcome in the course of a medical procedure or treatment for illness.
The fact is, people become sick and injured all the time, and it is not necessarily the fault of health care providers.
However, every person who receives medical treatment is entitled to expect quality care. When a doctor, nurse, paramedic, emergency medical technician or other medical professional fails to provide the acceptable standard of care for a patient, those affected have a right to take action.
The "acceptable standard of care" question is one that must be established very early in the case. The standard of care is understood to be the generally accepted practices and procedures used by other medical professionals in the same geographic area when treating patients suffering the same disease or disorder under the same or similar circumstances.
In order to prove a breach of this standard of care, your lawyer will have to rely on testimony from expert medical witnesses, who must have extensive experience in the same type of medicine at the same level of expertise and in the same region as defendant(s).
Additional medical experts are often required to testify that the standard of care breach caused patient's injuries, and further attest to the extent of the damages.
Among the types of medical malpractice claims our Boston injury lawyers pursue:
Failure to diagnose
Wrong diagnosis
Surgical error/ wrong surgery
Surgical negligence
Surgical complications
Birth injuries
Brain injuries
Hospital infections
Medication errors
Dangerous pharmaceuticals
Defective medical devices
Failure to treat
Blood contamination
Hospital-acquired infection
Hospital negligence or malpractice
Wrongful death
Plaintiffs in these actions may recover substantial compensation for not only medical expenses, but pain and suffering, lost wages, embarrassment, loss of consortium and other general damages.
Massachusetts Medical Malpractice Law
In addition to the strict "standard of care" proof burden held by plaintiffs, Massachusetts law has a number of other stipulations for when and how medical malpractice cases can be filed and what level of compensation is available.
The first consideration is the statute of limitations. In general, the statute of limitations for medical malpractice actions in Massachusetts is three years, just as it is for other types of injury cases. This is pursuant to Massachusetts G.L. c. 260, § 4.
This three-year window generally starts accruing at the date of injury. However, there are some exceptions. If the malpractice was not known or reasonably knowable, the action doesn't accrue until plaintiff becomes aware of either the injury or malpractice. In children under the age of six, the statute of limitations may be extended up to six years. However, the case must still be brought by the child's ninth birthday.
And in no case – except for those involving retained foreign objects during surgery (i.e., sponges, surgical instruments) may a case be brought after seven years.
Assuming the case meets those criteria, it must then be vetted.
Massachusetts G.L. c. 231 § 60B requires all medical malpractice cases first be filtered through a tribunal, which consists of a single justice of the superior court, a physician licensed to practice medicine in the commonwealth and an attorney authorized to practice law in the state. (If the defendant is not a doctor, the physician's position on the tribunal is to be replaced by a representative of defendant's field.)
At this hearing, which takes place 15 days after the defense files an answer to plaintiff's complaint, the tribunal will weigh plaintiff's proof. This may include hospital and medical records, nurses' notes, x-rays and other records, as well as expert witness testimony. The tribunal will then decide if the evidence is sufficient for the action to proceed.
If the tribunal rules against plaintiff, the matter may still proceed – but only if plaintiff files a $6,000 cash bond. The tribunal also has the authority to reduce or increase that bond amount. If the bond isn't posted within 30 days, the action is dismissed.
Finally, there are damage caps to consider.
Per Massachusetts G.L c. 231, § 60H, plaintiff damages other than medical expenses are capped at $500,000. The only exception is if a jury finds there is a substantial or permanent loss or impairment of a bodily function or substantial disfigurement or some other special circumstance warranting an excess award.
Worse, there is a cap on charitable organizations that limit damages to $20,000, and it may be applicable in medical malpractice cases to certain hospitals that have this designation (and most hospitals are considered "charities"). However, this would not apply to the negligent employee, so plaintiff could still sue the physician or health care provider directly for an excess amount.
To learn more about how we may be able to help with your medical malpractice case, call us today.
Contact Jeffrey Glassman Injury Lawyers today for a free and confidential consultation.
Call (617) 777-7777 – NO FEE UNLESS SUCCESSFUL