Inclined Sleepers Recall Lawyers
On October 31st, 2019, the U.S. Consumer Product Safety Commission (CPSC) has announced a grand warning to both parents and caregivers about the vast dangers of popular inclined sleepers. Here at Jeffrey Glassman Injury Lawyers, we believe our clients are like our family. At our firm, we field a team of seasoned product liability attorneys to fight for each and every client no matter the differences, obstacles, or level of difficulty we may face. What matters most to us is that each and every client gets the zealous and effective representation he or she is owed and due. Contact us for a free consultation with our inclining bed attorneys now.
Inclined Sleepers Unsafe Environment for Babies
Inclined Sleepers are sleep assistants for babies that are long believed to have been helpful in getting young toddlers to sleep better and longer. A new study supports a large growing body of evidence, sadly supported by infant fatalities, showing that these Sleepers with high angles do not truly provide a safe environment, and that the best place for a baby to sleep remains a flat surface. As a result, several Inclined Sleepers have been recalled by the CPSC as the federal body has received well over 1,000 reports over defects within the product as well as a heart-breaking 73 infant deaths beginning in January of 2005.
It has been found that these Inclined Sleepers are actually unsafe for babies, defying the common belief that they would help babies sleep and additionally help settle the spit-up. However, sleeping at an incline for a baby can put unusual pressure on the babies' neck. Because of this unusual pressure and the individual baby's relatively weak body structure, the pressure can cause the baby's head to fall forward and suffocate the baby due to the weakness in the neck muscle.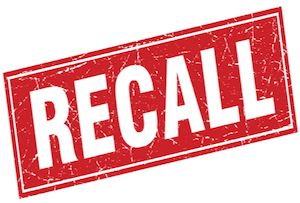 Numerous reputable manufacturers have recalled these products. Fisher-Price recalled its Rock 'n Play Sleeper on April 12th, 2019, citing a hazard for infant fatalities, numbering 30, that have actually occurred after "infants rolled from their back to their stomach or side while unrestrained…" Around 4,700,000 units have been impacted by this recall since its introduction in 2009. Further, the Dorel Juvenile Group recalled its Slumber and Soothe Rock Bassinet Rocker as well as its Disney Baby Doze and Dream Rocker citing infant fatalities as a hazard when the infants roll from their back to their stomach. Around 24,000 units have been impacted since the sale of these products between November of 2014, and February of 2017. Additionally, Kids II recalled all of its Rocking Sleepers as of April 26th, 2019, due to reports of injuries and citing as a hazard infant fatalities after an infant would roll from its back to its stomach. Nearly 700,000 units have been impacted since coming to market in March of 2012 through April of 2019. More and more manufacturers have since begun to recall their sleepers as well with the growing number of infant fatalities being reported.
If your loved one has been injured or lost his or her life due to one of these recalled Inclined Sleepers, please give us a call at (617) 777-7777. We are more than interested in speaking, setting up, investigating, and advocating for you in your claim through what we are sure to be very troubling times. Our firm fields a trial-tested and aggressive team that will be with you every step of the way to both answer all of your questions, and litigate on your behalf. While no results are guaranteed, we are always prepared to go the distance to help you get the chance you deserve. There are absolutely no upfront costs and no costs to your case unless we are successful on your behalf. Please reach out to us for a free consultation, we are happy to speak any time.