Car Accidents, Injuries, and Safety in Massachusetts
As of the first quarter of 2019, 8,110 people have died in motor vehicle accidents across the United States. In Massachusetts, according to the most recent state data from the National Highway Traffic Safety Association (NHTSA), 207 people have died from car accidents in 2017. Driving a car comes with the responsibility of knowing the laws and safety requirements in your state. The information that follows will both inform and guide you. If you have been in a collision, our car accident lawyers can help.
Nine Common Causes of Car Accidents
There is no limit to the ways that a motorist can get into a car accident. Car accidents can be devastating, causing serious injury or even worse, death. Some causes of car accidents are more common than others. Here is a list of the nine most frequent causes:
Speeding. 9,717 people died from speeding in 2017—26% of all traffic fatalities. When a driver speeds, they reduce the amount of time that they have to react to conditions on the road. Speeding also increases the amount of force involved in the impact when a collision does happen. The effect that speeding has on other drivers and pedestrians can be significant.
Distraction. People often fail to pay attention to the road. Whether they are playing around with the radio, eating, avoiding spilling their drink, focused on children in the backseat or, texting on their cell phones. In Massachusetts, there are laws banning texting while driving and also prohibiting the use of a hand-held cell phone while driving. If you take your eyes off the road or your hands off the steering wheel, you increase the risk of getting into an accident. In 2017, 3,166 people lost their lives due to distracted driving.
Weather. Car accidents in Massachusetts, due to inclement weather conditions, are most common in the winter months—specifically between December and February. When road conditions are icy, wet, or full of snow, the chances of reduced visibility, slick roads, and hazardous road conditions increase substantially.
Drunk Driving. Drunk driving killed one person every 48 minutes in 2017 in the U.S. Alcohol impairs reaction time, motor skills, performance, reasoning, thinking, awareness, and concentration. The chart on the next page shows the effects of blood alcohol on concentration:

Figure 1 Source: NHTSA

Driver Fatigue. According to the NHTSA, 795 people died in 2017, due to drowsy driving. When you are tired you have impaired cognition and performance, such as reaction time. Here are three conditions that the NHTSA have found are common with drowsy-driving accidents:

They occur between midnight and 6 a.m., or in the late afternoon
They usually only involve a single driver and no passengers
Most often occur on rural roads or highways.

Merging into Traffic. This often results in accidents when a driver merges from one road onto another, such as a highway onramp or from one lane to another. This type of accident is quite common during rush hour.
Tailgating. Following too closely behind the car in front is almost a sure way to find yourself in a rear-end collision. In 2017, 3.4 percent of all car accidents in Massachusetts were rear-end accidents. This type of accident can happen when the person in front unexpectedly brakes, causing the person behind to brake. If you watch the road, leave enough space between you and the vehicle in front, and drive at a reasonable speed, you will be able to react to the changing conditions on the road.
Colliding with a Fixed Object. Not all accidents involve another vehicle. In fact, in Massachusetts in 2017, 33.3 percent of all car accident fatalities fell into this category. When a driver is speeding, intoxicated, tired, or distracted, they can run off the road and hit buildings, poles, railings, etc. Colliding with a fixed object often results in what is known as a head-on collision and can be catastrophic.
Ignoring Traffic Signals. When drivers ignore traffic lights or try to "beat the clock", accidents happen. Cross-traffic or "T-Bone" accidents are the usual type of collision that occurs at traffic intersections and account for roughly 12.6 percent of all car accidents in Massachusetts. Below is a chart of the most dangerous intersections in the state, according to the 2018 report by the Massachusetts Department of Transportation:

| Town | Intersection | Rank | # Fatal and Injury Crashes | # Non-Injury Crashes | Total Crashes |
| --- | --- | --- | --- | --- | --- |
| Lowell | Veterans of Foreign Wars Highway & Bridge Street | 1 | 37 | 99 | 136 |
| Lowell | Appleton Street & Central Street | 2 | 34 | 60 | 94 |
Most Common Injuries Suffered from Car Accidents
According to the NHTSA, the head, neck, chest, abdomen, and limbs are the part of the body that are most likely to be injured in a car accident. Here are some of the most common injuries:
Spinal Cord Injuries
Head Injuries
Bruises, Scrapes, and Cuts. During a car accident, whether it involves other vehicles or a fixed object, plastic, metal, or glass can fly around and cause both superficial and more serious injuries to the skin and soft tissues. Additionally, any loose objects in the car, such as cups, glasses, toys, and phones, can become projectiles.
Soft Tissue Injuries. This type of injury can damage muscles, ligaments, and tendons. Whiplash is a common type of soft tissue injury.
Upper Body/Trunk Injuries. This part of the body is often where internal damage occurs. Punctured organs or arteries can cause severe internal bleeding—injuries to the upper body, when internal, are not always visible. A full medical evaluation, after a car accident, is so important because it can mean the difference between life or death.
Injuries to the Arms and Legs. The extremities are move around, are used to protect the face, grab other passengers, and unfortunately, often get crushed and pinned between the metal parts of a vehicle. At best, the injured person will suffer from bruises, scrapes, and cuts. At worst, the limbs will require amputation or no longer function properly.
Most Dangerous Cities in Massachusetts for Car accidents
The data in the table below was compiled using the National Highway Traffic Safety Administration's traffic safety facts data from 2013-2017. The chart shows all 14 counties in Massachusetts and the number of fatalities in 2017 (the most recent data available).
| | | |
| --- | --- | --- |
| Barnstable County | 2017 | 2 |
| Berkshire County | 2017 | 5 |
| Bristol County | 2017 | 15 |
| Dukes County | 2017 | 0 |
| Essex County | 2017 | 15 |
| Franklin County | 2017 | 5 |
| Hampden County | 2017 | 12 |
| Hampshire County | 2017 | 0 |
| Middlesex County | 2017 | 12 |
| Nantucket County | 2017 | 0 |
| Norfolk County | 2017 | 9 |
| Plymouth County | 2017 | 14 |
| Suffolk County | 2017 | 8 |
| Worcester County | 2017 | 24 |
A Comparison
Car Accident Fatalities: Massachusetts vs. New England States
The chart below shows the number of fatalities from car accidents in the six states that make up New England. All data is from 2017 from the NHTSA.
| | |
| --- | --- |
| Maine | 86 |
| Vermont | 36 |
| New Hampshire | 65 |
| Massachusetts | 207 |
| Connecticut | 193 |
| Rhode Island | 53 |
Passenger Car Accidents Compared with Other Motor Vehicle Accidents in Massachusetts
As you can see from the chart below, passenger car accidents in Massachusetts tops the list of motor vehicle accidents that result in fatalities.

Passenger car type by fatality is shown in the chart below:

Passenger Vehicle Safety and Traffic Laws
According to the MassDOT Registry of Motor Vehicles, one in three Americans will be injured or killed in a motor vehicle accident. If you want to drive a car in Massachusetts and do so legally and safely, you need to make sure you are aware of what is allowed and what is prohibited. Being mindful of these laws not only ensures that you are following the law but helps prevent a serious or fatal accident.
Passenger Vehicle Safety Laws in Massachusetts
Every state is different when it comes to the laws that govern the use of a motor vehicle. In Massachusetts, all motor vehicles must have working safety equipment. Every passenger vehicle must have the following:
Yearly Inspection—Your passenger vehicle must be inspected for safety and emissions every year.
Safety Belt for the Driver and Passengers—in 2017, 19, 681 of people who died in motor vehicle accidents were not wearing seat belts.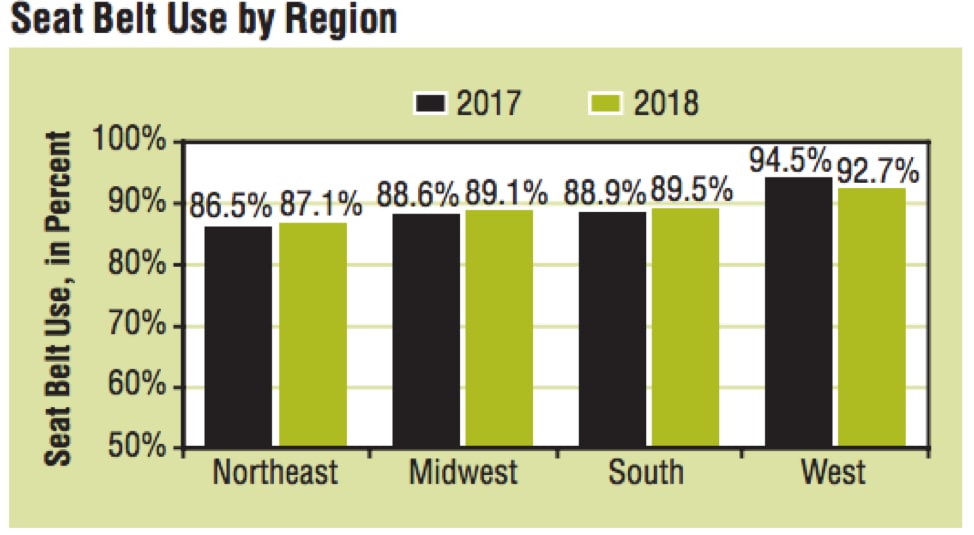 Massachusetts requires every person in a passenger vehicle to wear a seat belt, or if a child, to use a car seat. A $25 penalty applies to:
Drivers not wearing a seat belt
Any passenger 16 years or older not wearing a seat belt and;
Drivers who have passengers aged 12-15 who are not wearing a seat belt
A child is required to sit in a child safety/car seat if:
They are under eight years old or;
They are under 57 inches tall
The child seat must have a sticker that says: U.S. Department of Transportation's Federal Motor Vehicle Safety Standard No. 213 or the standards in 49 C.F.R. 571.213
You do not need to wear a seat belt if:
The vehicle was made before 1966
You driver a taxi, tractor, bus, or truck over 18,000 pounds
You are a passenger of an emergency vehicle
You are driving a police or fire vehicle
You cannot physically wear a seat belt due to a doctor certified disability
A Mirror— This helps you to have a clear view of behind your vehicle
A Horn—This helps you to avoid potential crashes and warn other roadway users of danger
A Lock for the Ignition
Windshield Wipers—In bad weather, this will help with visibility
An Exhaust Muffler
Foot Brake and Parking Brake
Lights—The following bullet points spell out when and how you should use your vehicle lights:
Headlights must be on if windshield wipers are needed. Each vehicle must also have lights for driving in the dark. There must be two white lights in the front, two red lights in the back, turn signals, three red brake lights in the back, and a small white light above the license plate.
Half an hour after sunset until a half-hour before sunrise
When you can't see people or vehicles 500 feet ahead due to insufficient light or weather conditions
In inclement weather that makes it difficult to see
To alert another vehicle to turn on their headlights
In a tunnel
Rules of the Road for Motorists in Massachusetts
Here are some standard rules of the road that all motorists should know and practice to remain safe and stay out of trouble: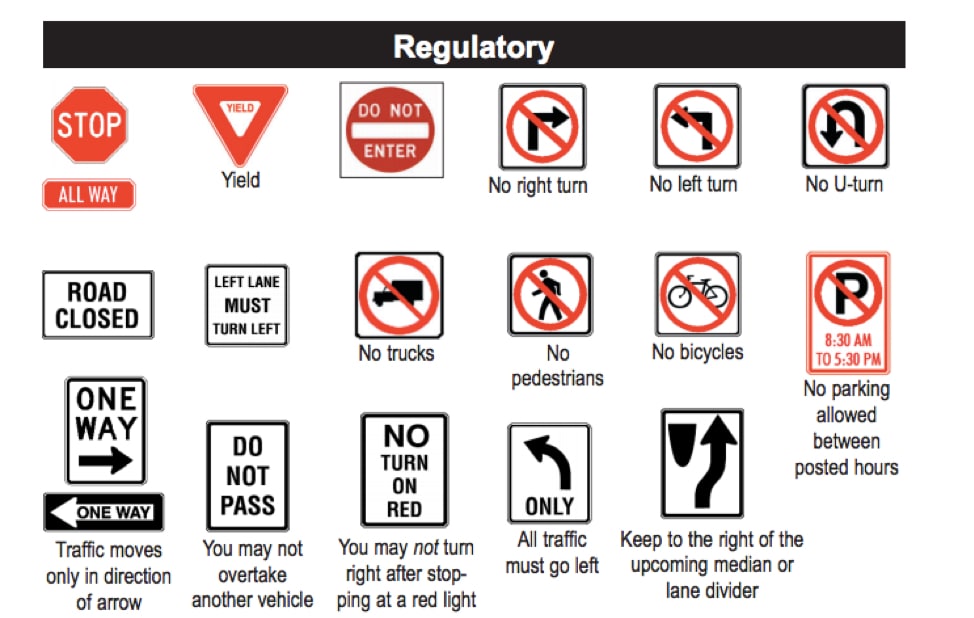 Insurance—Massachusetts requires every vehicle on the road to have insurance. Mandatory insurance coverage includes:
Bodily injury to others—Minimum $20,000 per person, $40,000 per accident
Personal injury protection—Pays up to $8,000 to you, passengers, pedestrians or anyone you allow to drive your vehicle
Bodily injury caused by an uninsured auto—Minimum $20,000 per person, $40,000 per accident
Damage to someone else's property—Minimum $5,000 for property damage
Move Over Law—Drivers must move over, when possible, when an emergency vehicle, highway response vehicle, or recovery vehicle approaches.
Mobile Phone Use—Use of any mobile electronic device to write, send, or read an electronic message while driving is prohibited. This rule applies to all drivers. Additionally:
Hands-free mobile telephones or mobile devices used by anyone under 18 years of age while operating a motor vehicle are prohibited. The only exception to this ruleis to report an emergency.
Drivers over 18 can use mobile devices for talking as long as one hand stays on the steering wheel. Text messages are prohibited while driving.
If you crash or injure someone while using a mobile device, you can face criminal charges and possibly lose your license.
Visibility Around Your Vehicle—Having a clear view of what is going on in front, behind, and to the sides of your vehicle will ensure that you can make safe and intentional decisions while on the road.
Keep Your Eyes on the Road—If you are distracted, you cannot react to dangerous or unexpected conditions on the road.
No Speeding— Speeding is the number one cause of accidents. Despite the posted speed limit, your driving speed should be determined by:
Traffic conditions
Road conditions
Weather and visibility
Pedestrians
Additionally, you are breaking the law if you drive over:
20 mph in a school zone
30 mph in a densely populated business area (an area where buildings are fewer than 200 feet apart)
40 mph outside of a densely populated business area
50 mph on a highway outside of a densely populated business area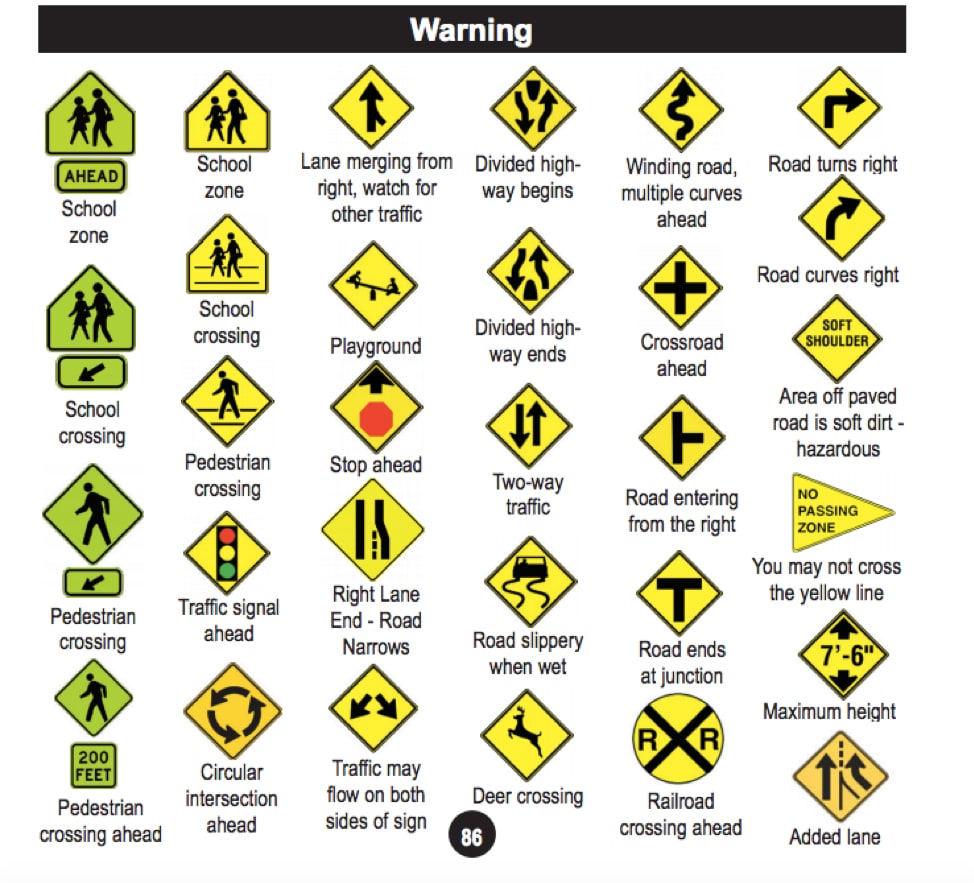 Keep a Safe Distance Between You and the Vehicle in Front— When you drive too closely behind another vehicle, you don't allow yourself enough room or time to brake if the driver suddenly slams on their brakes.
Do Not Drive While Intoxicated—You will face criminal charges for driving under the influence.
Keep Your Vehicle in Good Working Order—Low tread tires, poor brakes, delayed steering wheels, and broken brake lights are all examples of parts of a vehicle, that when not looked after, can be the cause of roadway accidents.
Watch Crosswalks and Don't Rely on Traffic Signals—Traffic signals don't account for people running across the road.
Have Your Eyesight Checked Every Year—If you can't see correctly, you can't make safe and calculated decisions that can save your life and the lives of others.
You can find a full list of the rules and regulations for driving in the state of Massachusetts here.
Who Is at Fault in a Car Accident According to Massachusetts Law
Massachusetts has 19 Standards of Fault that help determine who is at fault when a car accident occurs. Here is the list:
Collision with a lawfully or an unlawfully parked vehicle
Rear-end collision
Out-of-lane collision
Failure to signal
Failure to proceed with due caution from a traffic control signal or sign
Collision on the wrong side of the road
Operating in the wrong direction
Collision at an uncontrolled intersection
Collision while in the process of backing up
Collision while making a left turn or a U-turn across the travel path of a vehicle traveling in the same or opposite direction
Leaving or exiting from a parked position, a parking lot, an alley, or a driveway
Opened or opening vehicle door(s)
Single-vehicle collision
Failure to obey the rules and regulations for driving
Unattended vehicle collision
Collision while merging onto a high way or into a rotary
Noncontact operator causing a collision
Failure to yield the right-of-way to emergency vehicles when required by law
Collision at a "T" intersection
Steps To Take if Injured in a Car Accident
Getting into a car accident is stressful, not to mention painful for both you and your loved ones. Having a clear understanding of what you need to do to make yourself whole again can help ease the confusion and frustration. If you have been in an accident and believe that the behavior of the other driver fell into one of the 19 Standards of Fault categories in the above section, you could be eligible for compensation. Here are the steps to get you started.
Seek Medical Attention
It is always a good idea to seek medical treatment immediately after your accident, even if you think you only may have minor injuries. If your injuries are serious, you have a responsibility to make sure that they are treated right away so that they do not become worse. Failure to seek or receive medical attention could negatively impact your claim.
Keep All Documentation
If possible, take photos of your injuries, any damage to property, and the accident scene. It is also helpful to write down your account of the accident while it is still fresh in your memory. If there were witnesses, make sure you get their names and contact information. Keep track of all medical receipts, co-pay payments, invoices, records of lost wages, costs for medical treatment related transportation, and any other documentation that will support your claim.
Contact Your Insurance Company, But Be Cautious
Massachusetts is a no-fault auto insurance state. After an accident, each party files a claim with their own insurance company for Personal Injury Protection (PIP) benefits. PIP covers medical expenses and any out-of-pocket expenses incurred—regardless of who caused the accident. You have to report any accident to your insurance company before they will pay out on any insurance claim.
It is worth noting that the insurance adjuster will probably ask for your written account of the accident. Ideally, you will want to avoid making any official statement before you have discussed your case with your attorney.
Seek Legal Advice
PIP does not cover pain and suffering or any other non-economic damages. However, if you meet the criteria below, you can file a personal injury lawsuit:
You have at least $2,000 in medical expenses, and/or
Your injuries from the accident include severe and permanent disfigurement, fractured bones, or substantial loss of hearing or sight
Massachusetts follows a comparative fault rule when it comes to personal injury lawsuits. What this means is that if the injured person is 51% or more responsible for the accident, they won't be able to recover any damages. If their fault is found to be less than 51%, they can recover damages, but the damages awarded will be reduced by their percentage of fault.
Massachusetts has a time limit of three years from the date of an accident to file a personal injury lawsuit. This time limit is known as the statute of limitations. If the three-year clock runs out before you seek legal advice, you will have no further remedy.
Because the law can be complex, with nuances that most people don't understand or even know exist, having a trained legal professional there to help guide you through the process is invaluable.
For More Information, Contact Jeffrey Glassman Injury Lawyers
If you have been injured in a car accident and have questions or concerns about how to handle insurance claims or how to file a personal injury lawsuit, contact the Jeffrey Glassman Injury Lawyers for a free and confidential consultation at (617) 777-7777.