Limited Visibility & Blind Spot Motorcycle Accidents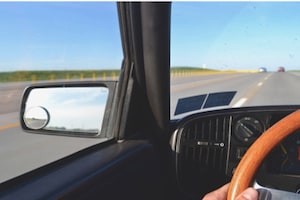 When a motorcyclist chooses to enter the public domain and roadway, he or she must be aware of the severe and heightened risks that he or she may face from other vehicles. It is vital to remember that because the motorcyclist is likely smaller and tougher to see, cars may often be unaware of where the motorcyclist is or could be at all times. This limited visibility, especially when a motorcyclist finds himself in a blind spot, dramatically enhances the risk of an accident and consequently poses a substantial and severe threat to the rider.
If you have been injured in a collision while riding your motorcycle, speak to an experienced motorcycle accident attorney at Jeffrey Glassman Injury Lawyers immediately.
A Leading Cause or Motorcyle Accidents: Limited Visibility & Blind Spots
Unfortunately, one the leading causes of motorcycle crashes pertain to an opposing motorist's limited visibility. Limited visibility is typically when the opposite driver fails to yield to motorcycle riders for one reason or another and ultimately ends up in a collision. Collisions with motorcycles often result in severe and fatal consequences to the rider. These types of accidents generally revolve around any motorcycle accident that is caused due to the inability of an opposing motorist to recognize, see, or yield to the motorcycle rider. When a driver fails to acknowledge, view, or yield to a motorcycle rider, that motorist can be found to be at fault. Being the most common cause of a motorcycle accident, these types of accidents account for over one-third of all motorcycle accidents involving a two-vehicle accident typically when:
The motorcycle is going straight through an intersection
The motorbike is passing a car legally on a road or highway
The bike is trying to overtake a vehicle legally
Drivers typically struggle to see motorcyclists and have limited visibility for a multitude of reasons. These reasons include:
The driver is distracted

Social media
Phone call
Conversing

The driver is impaired
The driver is drowsy
The motorcyclist is not openly visible

Wearing dark clothing
Riding directly beside the car
What About Blind Spots?
Most importantly, motorcyclists must be aware at all times of being in an opposing motorist's blind spot. These types of spots are particularly dangerous on the road as they are primarily the form of limited visibility accident that causes motorcycle accidents. If a motorist is unable to see a motorcyclist in his or her blind spot and subsequently attempts to turn into a lane, the results can be and often are catastrophic for the motorcyclist. It is impossible to eliminate blind spots from a vehicular point of view; there will always be small nooks that one cannot see. As a result, both individuals must mitigate the potential chance of these collisions from happening. The most common areas for a blind spot are usually:
The space between what you see in the front and back of your car
The area that is hidden on the back corners of your vehicle
The area that is hidden on the front corners of your car
What Should I Do If I Have Been Injured?
You must seek immediate medical attention if you have been injured in an accident. The injuries sustained must be appropriately treated, promptly, and effectively. The medical treatment serves to both get you back in good health as well as serving as proper evidence of your injuries to assist you in your claim for compensation. Helpful evidence can include:
Photos of your injury
Photos of the accident
Photos of damage to your property
Receipts and medical bill statements
Although each case presents a different scenario with varying facts, you should speak with an attorney at the Jeffrey Glassman Injury Lawyers. We specialize in motorcycle accidents. Call now to see if we can help and assist you with your claim. You may be entitled to significant amounts of compensation to help put back together what you have lost.
Please contact Jeffrey Glassman Injury Lawyers for a free and confidential consultation to discuss your rights. (617) 777-7777.