#HURT
#HURT
Here at Jeffrey Glassman Injury Lawyers, we believe in providing the most effective and efficient assistance to those that have been injured and need representation. As a result, we are proud to announce #HURT – a simple and more expedient way to get the help you need sooner.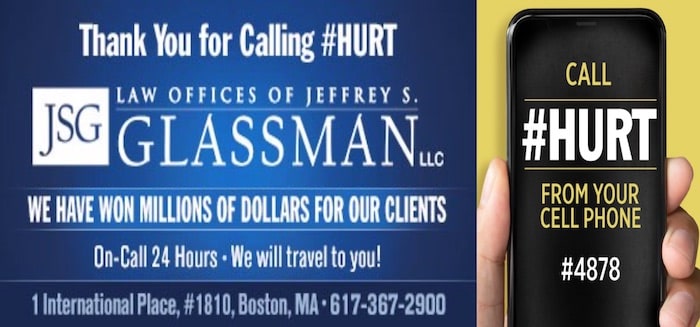 What is #HURT?*
#HURT is an Abbreviated Dialing Code ("ADC") that generally works across all major phone service carriers in Massachusetts and is as simple to dial as #4878.
There is no limit to the ways that #HURT may assist you. If you've been injured in any of the following ways, please call #HURT to speak with an experienced attorney at our firm today!
Even if your injury is not labeled above, Jeffrey Glassman Injury Lawyers is confident that we can assist you in your claim. Our firm consists of seasoned and experienced attorneys in handling all types of cases whether it is simple or complex or whether it is small or large. Regardless of size or complexity, our firm will handle your case with due diligence, care, and expediency.
So How Does #HURT Work?
It's as simple as dialing #HURT. If you have been injured and are in need of representation to help get the compensation you deserve, dial #HURT. Once dialed, you will be put directly through to a real individual at our firm who will be more than happy to speak to you immediately and see if we can assist you with your claim. Not only will you be able to speak to us, but in addition you will also receive automatically receive a text message from us to not only let you know that an experienced team member is going to do their best to help you, but also to thank you for reaching out to us.
At the end of the day, it is our goal to assist you in any way that we are best able. If you've been injured and are in need of assistance or representation, please dial #HURT from your cellular device to speak with us and receive a free consultation, meaning there is no charge to you.
What Happens When I Sign Up?
At Jeffrey Glassman Injury Lawyers, we feel strongly in transparency between our work and the client. Communication is vital to any healthy relationship between attorney and client. As a result, below is a short and generalized start to finish list from where you begin and end with our firm:
Our intake department gets in contact with you to fill out the necessary paperwork
Once we receive that paperwork, an experienced team is assigned to your case
Medical records and other documents are ordered to help build your profile as our client and put a true case together
We then begin negotiating with the defendant in order to hopefully reach an amicable solution
If necessary, and if the preliminary negotiations do not work out, we will then pursue the avenue of taking your case to trial in order to help you get the compensation you deserve such as:

Medical expenses
Physical pain and suffering
Mental anguish and emotional suffering
Loss of consortium
Property damage
*What Is An Abbreviated Dialing Code?
Abbreviated Dialing Codes essentially allow any caller serviced by a major phone provider, such as Sprint, Verizon, T-Mobile, or AT&T to connect by way of a very short digital sequence to a given location that would typically only be available by calling the 10-digit number. The major highlight here is this solely works for dialing purposes, not texting. Common highlights and examples of these that are well known are those such as 9-1-1 and other numbers used by various state and highway patrol codes.
In our instance, #HURT is an ADC in Massachusetts that is easy to remember, easy to dial, and far less tedious than dialing lengthy numbers – such as our firm's (617) 777-7777. Instead of having to remember or having to search for a 10-digit number, all you need to do is dial #HURT instead.