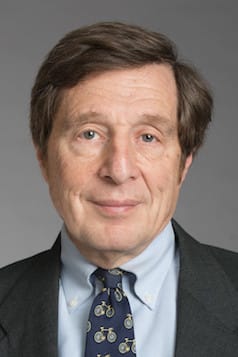 Andrew Fischer
Of Counsel
Mr. Fischer has tried dozens of cases to verdict in federal and state courts. He is a passionate proponent of the rights of consumers, bicyclists and small businesses, primarily representing injured plaintiffs in bicycle crashes, civil rights claims, consumer claims, and personal injury claims. He also represents individuals and small businesses in contract disputes and other civil litigation.
He formed the law firm of Jason & Fischer with his wife, Linda Jason, in 1981. Atty. Fischer's typical cases include the rights of bicyclists, injured cyclists and other personal injuries, as well as civil rights cases.
Mr. Fischer is an avid bicyclist and bicycle advocate. His cycling-related activities include bike commuting and recreational cycling, as well as writing legislation that effects cyclists, and writing amicus briefs for cyclist advocacy groups.
Some of Atty. Fischer's notable cycling-related cases include the following.
A cyclist's right to ride on Route 9 in Hadley MA was upheld by the federal court and the police harassment suit settled in Damon v. Hukowicz et al.

MA State Police agreed to adopt and implement a course for state police officers on bicyclists' rights as part of a settlement in the civil rights case Kopacz v. Wosny.

After a cyclist was illegally arrested for riding his bike on Boston's Memorial Drive, Andrew Fischer brought suit against the MA State Police. As part of his jury instructions, the judge stated that the cyclist had the right to bicycle on Memorial Drive, contrary to what the state police claimed. See Rowinsky v. Massachusetts State Police.

A cyclist accused by police in Wilmington MA of "erratic behavior" and disorderly conduct faced up to six months in jail. After retaining Attorney Fischer, the cyclist was acquitted of all charges. See Commonwealth v. Jenney.

A case that would require public road departments to insert water drainage grates with the slots perpendicular rather than parallel to the roadway direction, helping to prevent bicycle wheels from getting caught.

A product liability claim against the manufacturer of carbon steel mountain bike forks that have snapped, injuring the rider.
Atty. Fischer served on the Board of Directors of the Boston Area Bicycle Coalition (the BABC) from 1988 to 1996, when it grew from a local Boston organization into the statewide BCOM, the Bicycle Coalition of Massachusetts, the predecessor of today's MassBike. Mr. Fischer served as president of BCOM from 1993-1995.
During this time, Atty. Fischer worked as part of the coalition that obtained passage of the Bicycle accommodation statute, requiring that new or renovated transportation facilities make reasonable accommodations for bicyclists.
His love for the Constitution and the Bill of Rights attracted Mr. Fischer to civil rights law. He tried his first civil rights case before a jury in the Federal District Court for Massachusetts in 1983, representing two teenage boys who were attacked by police dogs. In another of his first civil rights cases, he represented a Harvard graduate student of Fine Arts who was arrested for posting notices of a political rally. The student was then assaulted and had his arm broken by the arresting officer, who expressed his displeasure and disagreement with the student/artist's political views.
Attorney Fischer continues to try civil rights cases, including Chao v. Ballista et al., in which a young woman was sexually assaulted by a prison guard. Atty. Fischer won verdicts against the prison guard, the superintendent of prisons, and the state Department of Corrections.
Mr. Fischer has also been involved in promoting other legislation, including a proposed medical privacy law that he authored and which is one of several bills that have been submitted to the General Court during the last two legislative sessions. Mr. Fischer's proposed bill would afford much more protection than other proposed bills and would impose much more severe penalties for the improper release of an individual's medical records.
Reported cases Atty. Fischer has litigated include:
The brief Atty. Fischer is most proud of is an international law brief he wrote in the early eighties, on behalf of a Russian Jewish refusenik, or prisoner of conscience.
Atty. Fischer is an active member of the American Association of Justice (formerly American Trial Lawyers Association), where he served as Chair of the Civil Rights section from 2004-2005 and continues to serve on the Civil Rights Section Executive Board. He has published articles in the Civil Rights Section newsletter and chairs the Leonard Weinglass In Defense of Civil Liberties Award Committee. He is certified as an Advocate by the American Trial Lawyers Association, for representing completion of continuing legal education programs of the National College of Advocacy. He has served on the Massachusetts Association of Trial Lawyers, Board of Governors since 2008 (2008-present) and the American Constitution Society, Boston Area Steering Committee (2009-2012). Atty. Fischer has also been honored by the Mass. Chapter of the National Lawyers Guild for his role in the Occupy defense team and has been active in the Massachusetts Bar Association; Boston Bar Association, the Civil Liberties Union of Massachusetts and local bar Associations. Atty. Fischer completed Suffolk University in 1980, and is a 1971 graduate of the University of Pennsylvania
Education
J.D., Suffolk University Law School, 1980
B.A., University of Pennsylvania, 1971
Jurisdictions Admitted to Practice Massachusetts, 1980

Professional & Bar Association Memberships
American Association of Justice
Activities: Civil Rights Section Executive Board
Massachusetts Bar Association
Boston Bar Association
Civil Liberties Union of Massachusetts
Massachusetts Association of Trial Lawyers
Member Since: 2008