Covidien Hernia Mesh Lawsuit Attorneys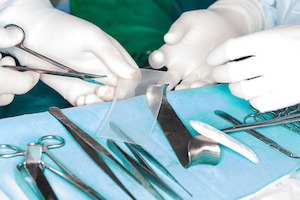 Upon experiencing a hernia, often the best solution is to undergo a procedure in order to have some form of mesh product placed inside your body to stop the hernia from painfully busting out. Typically, hernias are most common in the inner and upper groin, the abdomen, the belly button, and the upper stomach. Although these are most common after a surgery, hernias can occur for a multitude of different reasons such as an opening or a weak spot within the muscular wall. Further, extreme pressure such as long-term obesity and heavy lifting can also cause hernias to occur. Regardless of its origin, it is important to get these medical issues taken care of as they can cause severe and substantial health complications down the line including and even death. Unfortunately, recurrences of hernias are very common once one begins and more often than not hernia mesh is the most predominant solution to these problems.
Specifically, Covidien, wholly owned by Medtronic, manufacturers a specific brand of hernia mesh called Parietex. Although approved by the FDA, this Parietex mesh is the main line being litigated against in regard to Covidien has been found to consistently cause infections and adhesions based on its product design. Specifically, one report even included a plaintiff that has to have a panniculectomy because necrosis had grown "onto the mesh" resulting in hospitalization. At present, Covidien's hernia mesh product litigations are not consolidated in any federal district court under an MDL and further no recalls have been issued for these products despite consistent and severe adverse reports.
The following is a sample list of hernia mesh products Covidien manufacturers that have seen significant amounts of adverse reporting to the FDA as well as substantial civil litigation:
Parietex
Parietex Composite
Parietex Surgical
Parietex ProGrip
Unfortunately, whenever hernia issues arise, surgery is almost if not always a required procedure in order to mitigate the risks of substantial complications down the line. However, outside of surgery those experiencing hernias are often faced with serious complications. These complications can include the mesh breaking apart, folding, or piercing other areas of the body, and can even extend to becoming infected and causing severe pain and swelling. Prior to surgery, patients are often told to try and 'wait' to see if it will lose the swelling on its own. Unfortunately, this is often not the case as the inner intestine and other fatty tissues and liquids will slowly push out causing internal and external bulges on the body thereby complicating and compounding more problems. As a result, this typically results in surgery either laproscopically (small incision) or openly (large incision). In either event, the patient is forced to undergo severe pain and complications that we believe is a direct result of the hernia mesh manufacturer's negligence and compensation is deserved.
Here at The Law Offices of Jeffrey Glassman, we field a strong team of seasoned and dedicated attorneys ready to investigate your claim with the loyalty and results-driven mindset you deserve. If you or a loved one has experienced any complications with hernia mesh, please give us a call at (617) 777-7777 to see if we can assist and guide you in your claim. There is absolutely no cost to a phone call or consultation and we will do everything we can to put you on the right track. While no guarantee can be promised, our firm has a heavy and substantial track record of facing off against big corporations including mesh litigation and would be more than happy to help.