Covidien Hernia Mesh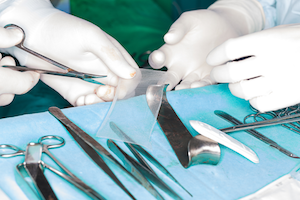 Covidien hernia mesh products are often implanted by small incision or laparoscopically in order to strengthen and support damaged and weakened tissue that resulted from hernia removal procedures. It is imperative that these hernias are treated because in the event that they are not, they can embed within the bowel or intestine, cutting off blood supply and creating dead tissue (necrosis), which can result in infection, sepsis, and even death. Up to and into the 2000s, hernia mesh was more often than not made with plastic, polyester, and polypropylene that inevitably caused serious and harmful injuries and side effects.
Specifically, Covidien, wholly owned by Medtronic, manufacturers a specific brand of hernia mesh called Parietex. Although approved by the FDA, this Parietex mesh is the main line being litigated against in regard to Covidien specifically and has been found to consistently cause infections and adhesions based on its product design. Specifically, one report even included a plaintiff that has to have a panniculectomy because necrosis had grown "onto the mesh" resulting in hospitalization. At present, Covidien's hernia mesh product litigations are not consolidated in any federal district court under an MDL and further no recalls have been issued for these products despite consistent and severe adverse reports.
The following is a sample list of hernia mesh products Covidien manufacturers that have seen significant amounts of adverse reporting to the FDA as well as substantial civil litigation:
Parietex
Parietex Composite
Parietex Surgical
Parietex ProGrip
Nearly always, when a patient experiences difficulties with his or her hernia mesh, a form of surgery is required.
Hernia Mesh side effects:
Revision surgery
Severe pain and swelling
Infection
Recurrent hernias
Perforation
Migration
Adhesions
Partial excision and resection
Debridement of the mesh
Curling, folding, and buckling
If you have undergone surgery to repair an abdominal hernia, were implanted with a Bard hernia mesh product, and have experienced any symptoms, including those above, please contact Jeffrey Glassman Injury Lawyers for a free consultation. Common damages one can receive compensation for include medical treatment costs, lost wages, and pain and suffering. While no result is guaranteed, each product liability case is unique and offers varying facts that our team of attorney has faced and overcome. Our team of experienced defective medical device attorneys will investigate and handle your case with care as we find the best path forward for you.