Bard Hernia Mesh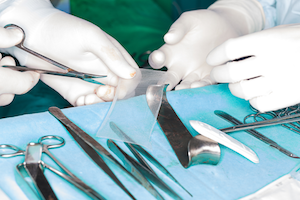 Hernia mesh products are often implanted by small incision or laparoscopically in order to strengthen and support damaged and weakened tissue that resulted from hernia removal procedures. It is imperative that these hernias are treated because in the event that they are not, they can embed witin the bowel or intestine, cutting off blood supply and creating dead tissue, which can result in infection, sepsis, and even death. Up to and into the 2000s, Bard hernia mesh was more often than not made with plastic or polypropylene which inevitably caused serious and harmful side effects. If you have been injured it is crucial you hire a hernia mesh attorney to receive the compensation you deserve.
Specifically, C.R. Bard, one of many hernia mesh product manufacturers, created a wide range of hernia mesh products that were expedited through the FDA 510(k) process. This pathway is typically used when there are already products on the market being commercially distributed similar to the product a corporation would like to market. However, as Bard profited immensely, their products began to cause serious and harmful issues. For example, in 2006, the FDA issued a Class I recall, the highest level of recall, on their Kugal Mesh Patch that was used to treat and repair ventral hernias. It was revealed that the product could "break" or "fracture" which would lead to bowel perforations or other complex problems that could be fatal to the patient.
A great variety of hernia mesh products have been manufactured by Bard including but not limited to:
3DMax Mesh (and Light Mesh)
Bard (Marlex) Mesh Dart
Composix (E/X, Kugel Hernia Patch and L/P)
Kugel Hernia Patch (and Modified)
Marlex
PerFix Plug (and Light Plug)
Sepramesh IP
Sperma-Tex
Ventralex Hernia Patch (and ST Patch)
Ventralight ST
Ventrio Patch (and ST)
Visilex
Nearly always, when a patient experiences difficulty with his or her hernia mesh, a form of surgery is required.
Hernia Mesh Side Effects:
Revision surgery
Severe pain and swelling
Infection
Recurrent hernias
Perforation
Migration
Adhesions
Partial excision and resection
Debridement of the mesh
Curling, folding, and buckling
Presently, with hernia mesh cases being filed against Bard and other manufacturers across the nation there have been victories on both sides of the isle. Additionally, there are two major litigation hubs against Bard. First, there is a consolidated federal effort with over 2,000 cases filed in the United States District Court for the Southern District of Ohio (MDL 2846); IN RE: DAVOL, Inc./C.R. Bard, Inc., Polypropylene Hernia Mesh Products Liability Litigation. Second, beginning on 2017, the Providence Rhode Island Superior Court set up a multi-case management proceeding IN RE: Davol/C.R. BARD HERNIA MESH PROCEDURE. Jeffrey Glassman Injury Lawyers represents clients from across the nation in both proceedings and does not intend to stop until all those who need assistance receive the compensation they deserve.
If you have undergone surgery to repair an abdominal hernia, were implanted with a Bard hernia mesh product, and have experienced any symptoms, including those above, please contact Jeffrey Glassman Injury Lawyers for a free consultation. Common damages one can receive compensation for include medical treatment costs, lost wages, and pain and suffering. While no result is guaranteed, each product liability case is unique and offers varying facts that our team of attorney has faced and overcome. Our team of experienced defective medical device attorneys will investigate and handle your case with care as we find the best path forward for you.