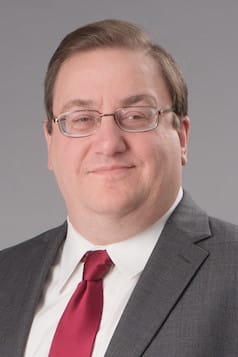 L. David Ferrari
Attorney and Counselor at Law
Attorney David Ferrari has advocated in over 1,045 Social Security disability hearings in 45 states and the District of Columbia since 2005. As the Managing Attorney for the Law Offices of Jeffrey S. Glassman's Social Security Disability Law Department, he personally supervises each case to be sure every claimant gets the best chance possible to receive benefits.
David is a cum laude honors graduate of Nova Southeastern Law School in Florida where he was the 2L class Moot Court Champion. He was premed prior to switching to the law, and started his law practice as a doctor's lawyer, handling all the legal matters of the doctor and his medical practice.
At the doctor's insistence, he handled a patient's Social Security Disability, (SSD) case. He won the SSD case by writing a brief, so no hearing was ever held! This lead to his hire by one of the leading national Social Security Law firms in the country where he was the senior SSD attorney before joining Jeffrey S. Glassman.
Attorney Ferrari stays on the cutting edge of SSD law by attending every National Social Security Claimant's Representatives, (NOSSCR) conference twice a year, since 2009. He is a Sustaining member of NOSSCR and has served it as a lecture moderator and a volunteer lobbyist in DC on SSA issues and funding.
Since July 1, 2015, Attorney Ferrari has been the Chairman of the Social Security Law Section National Board of Directors of the Federal Bar Association, of which he served as Secretary, 2011-2013. Chairman Ferrari was unanimously recommended by the Board to his position for a term lasting to September 30, 2018.
"I have devoted most of my professional career to representing disabled people before SSA. Disabled people need an experienced Social Security Disability lawyer because too many times SSA denies claims simply because the system is overloaded. We have won a good number of cases at the first and second paper appeal stages, without the client ever having to go to a hearing. However, most cases will have to go to a hearing."
A big mistake in applying for SSD, is going it alone for the first two paper appeals in an application, called initial and reconsideration appeals. Many think, if I can win on my own, I save myself a fee. Some lawyers don't want to do the hard work of starting your application, and the fee will be smaller if they win. Here at Jeffrey S. Glassman, we always want you to win first.
What really happens is self represented appeals are treated differently, though agencies will deny it. Common sense tells you that an agency will take a paper appeal by an experienced SSD lawyer more seriously than some self represented individual that will usually make a mistake or fail to get evidence that would help win their case.
A 100% VA approved disabled veteran came to me after doing this, who even went to the hearing and Appeals Council alone! A counselor told the veteran the case was sure to win, and a lawyer wasn't needed. Unfortunately, it was too late to change the outcome in federal court. A 100% disabled veteran whom would have likely won with a SSD lawyer, will likely never get SSD benefits now.
We aggressively approach each case by obtaining all relevant medical records for you at no cost up front. Prior to the hearing, if we think it will help, we write a 'brief' to the judge, which not all attorneys will do for you. Attorney Ferrari has also won reversals and many remands from SSA's Appeals Council, which decides lost hearings and has coordinated federal district court SSDI cases to victory.
David can represent any US Citizen or legal resident anywhere. He has had clients from as far away as Thailand and France. The French case was won in January 2016 by David's brief writing without a hearing.
Attorney Ferrari will return your call in less than a week and often the day the call is made. Call, write, or email him to discuss your disability case. If a rookie attorney or non-attorney represents you, they will be paid the exact same fee As David that SSA will dictate, so why not have the best legal representation possible?*
* David Ferrari has limited his practice to only a couple of hundred open cases so he can personally supervise each case with his team of law students. Not everyone can be represented by Attorney Ferrari. If your case is not chosen, David has a nationwide network of attorneys that may be willing to represent you. Nothing in this article should indicate how your case may fare, because each case is fact specific.
Education
J.D., Nova Southeastern University
cum laude ; Moot Court Champion.
Jurisdictions Admitted to Practice I can and do practice SSA disability nationwide, including Hawaii and Alaska, 2007
Massachusetts, 2004

Professional & Bar Association Memberships
Social Security Disability Advocate's Handbook
Member Since: 2019
Co-Author
Activities: Chief author for 16th edition
Federal District Court of Massachusetts
Member Since: 2019
Member of the Bar
Activities: Litigating several SSD cases
Social Security Law Section of Federal Bar Association
Member Since: 2011 - 2019
Member and former Chairman of the National Board of Directors
National Social Security Claimant's Representatives
Member Since: 2009 - 2019
Sustaining Member
Activities: Served as a lecture moderator at the annual conference; volunteer lobbyist to improve SSA.